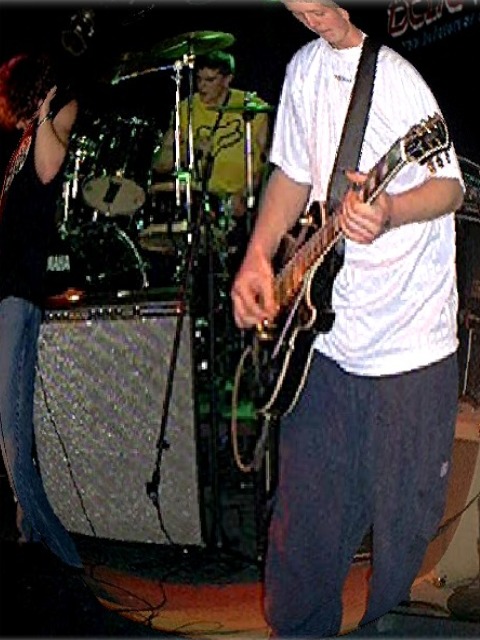 Goodale set to return
After taking a few months to recover from knee surgery, Lee Goodale is ready to return to
live action.

The lead singer of Fusionn has gone through intense rehabilitation to help him get
back on his feet.

Surgery took place in early June and Goodale is excited about once again
performing with his bandmates in front of electrified audiences.

Dan, Damion, Cole and Lee are now stronger than ever. They have a bond that cannot be broken.

With Lee's surgically repaired knee ready to once again bare the weight of helping
the band along its path to success, there is no stopping these hard workers.

Stay informed with Fusionn's live shows. Go to the news and reviews section to find out the latest information.





You are about to enter the world of Fusionn. A world where lyrics make one think, guitar riffs entrance, and bass lines hypnotize. A world with its population rising daily.

September 11, 2001 will be a day that Americans remember for the rest of their lives. We are lucky to even have that... to be able to remember it for the rest of our lives means we survived the savage terrorist attacks upon the United States. Fusionn dedidcates this page to those who lost their lives, those who lost loved ones, in addition to the fire fighters and police officers that risked their lives for the sake of others. Our thoughts are with you.

The attacks may have wounded our pride for a few days, but it did not manage to rip away our freedom. If we stand together, nothing can break us. They have already tried, but America is still functioning. The old saying goes, "The most dangerous thing is a wounded animal". As of right now, the bald eagle that is the United States is wounded, but is ready to claw the beasts that disturbed its peaceful nest.





This is Fusionn
Lee Goodale- Vocals and Rhythm Guitar
Damion Hill- Bass
Dan Fisher- Lead Guitar
Cole Cooper- Drums